Ada Loafers
in Frozen Lake Patent and Glove Suede
Unveiling a new comforting experience. Named after Ada Lovelace, these loafers fuse a unique glazed patent leather with butter-soft suede. Its modern silhouette is crafted with strength of character and elegance in every detail. A unique palette of Blue Frozen Lake, Taupe Marmotte and Black Peppercorn tones. Rediscover elegance through the art of contemplation.
Read More
FURTHER DETAILS
Ada Loafers in Frozen Lake Patent and Glove Suede
Inspired by a departure from the norm, these new loafers mark a distinct departure from our usual curved designs. Ada embraces a different philosophy, one that seeks purity through the expression of essential lines. These shoes command attention and embody a unique presence.
With an elongated silhouette, a substantial sole, and a slightly forward-slanting heel, Ada defies convention, as if it has a singular path to follow. But what truly sets it apart is the material - not your typical patent leather, but patent suede.
This isn't just any patent leather; it's a virtuoso glazing of suede that imparts a glossy sheen akin to patent leather while offering a watercolor-like effect with its colors.
Designed for the modern professional who values refinement and uniqueness, Ada elevates aesthetics with obsessive attention to lines and proportion. Unlike our Sagan Loafers, Ada features an underlaid apron that gracefully covers most of the instep, cradling every step in supple suede.
Handcrafted to perfection, Ada's heels are meticulously trimmed, colored, and polished. Its dense leather sole exudes empowerment and self-confidence, making a statement with every stride.
This collection pays homage to the transformative power of nature, with a palette of colors like Blue Frozen Lake, Taupe Marmotte, and Black Peppercorn. Each shade echoes the beauty and dynamism of the natural world.
Ada Lovelace, the namesake of these loafers, was a pioneer in her own right, much like the shoe itself. As the daughter of Lord Byron, she was a groundbreaking mathematician who made seminal contributions to computer science. These loafers honor her spirit of self-confidence, intellect, and transformative power—a fitting tribute to a trailblazer who balanced her role and soul in modern society.
Materials & Care
Materials & Care
ASTERIA SUEDE
Our very own Asteria suede has been specifically developed to have a suede leather to make quality shoes that does not require a second layer of lining, that naturally stretches to adapt to the wearer and to show a luxurious velvety nap. We use only a prime selection of Mediterranean lambs that are slowly tanned by an artisanal family run tannery.
A slow tannage that uses traditional ingredients and no aggressive chemicals allowing the skins to dry naturally is the secret to the unique properties of this suede. Our Asteria suede is made on the reverse of a full grain skin so that on the inside of our shoes we can directly show the natural full grain side without having to stiffen the shoe by adding a layer of lining leather.
CARE
After use always allow the shoes to dry at room temperature, away from direct heat. If your shoes have got wet, you may roll-up some paper and insert it inside the shoes. If you have dirt or mud on your suede shoes, make sure they are completely dry before brushing with suede brush.
Shipping Information
Shipping Information
Delivery
Try them on, worry-free. If you are not perfectly satisfied with your shoes, return or exchange them within 28 days, no questions asked. All products are shipped with trackable DHL & UPS Express shipping services.
Do I have to pay Import Duty and Taxes?
We ship from our atelier in the UK but we cover we cover duties and taxes in Europe so that you don't have to pay any additional charges when your order arrives.
Order before 3pm GMT for same day dispatch. Any orders made after this point will be dispatched the next working day.
Shipping Times
| | |
| --- | --- |
| Destination | Delivery Time |
| London | Same Day |
| UK | Next Day |
| Europe | 1-2 Days |
| USA & Canada | 1-2 Days |
| Australia | 3 Days |
| China, Japan & South Korea | 2 Days |
| UAE | 2 Days |
| Rest of the World | 2-5 Days |


Once your order is shipped, you will receive an automated email with the relevant tracking details.  
Return & Exchange
Return & Exchange
We offer free exchanges or returns in case you are not fully satisfied with your purchase. 
To initiate the process, contact contact@baudoinlange.com within 30 days of receiving your order. Items must be returned in unworn condition with original packaging. Refunds appear within 5 working days of receiving returned goods. Note that duties and/or taxes cannot be refunded.
Exclusions: Any sales product is final sale and is not eligible for exchanges or returns.
Payment Options
Payment Options
We accept the following payment methods: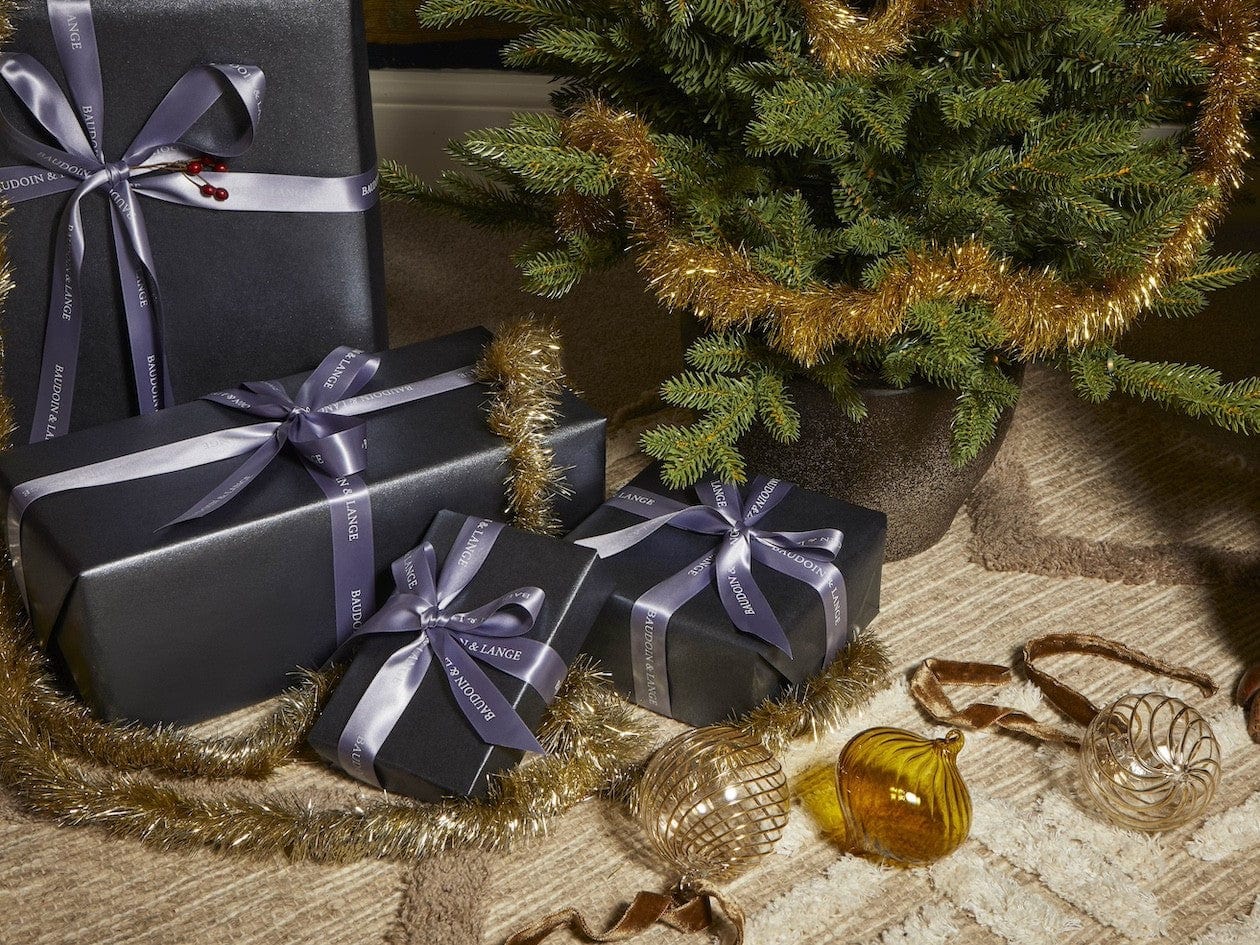 Discover our custom-made gift wrap
The Art of Gifting
Offering complimentary wrapping on all orders, carefully packaged in custom-made Gunmetal wrapping paper and Silver satin ribbon. Complimentary gift wrapping offered at checkout.
Discover elegance through a patent leather and suede blend, inspired by Ada Lovelace's legacy.
Ada Loafers Redefine Women's Elegance
Elevate your style with Ada Loafers – women's shoes redefining elegance. Glazed patent leather and sumptuous suede in Blue, Taupe, and Black. Inspired by Ada Lovelace's confidence and intellect, with organic lines, precise proportions, and handcrafted details. For modern professionals, Ada Loafers offer grace and empowerment in every step.